Coopération et Documentation Missionnaires (C.D.M.)
Abidjan, Ivory Coast/Côte d'Ivoire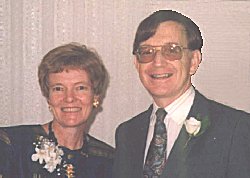 Who we are and what we do
---
Victor and Stephanie Bissett came to Abidjan, Ivory Coast/Côte d'Ivoire in 1985 with their 3 daughters after four years in Niger Republic with SIM. They began a teaching and literature ministry as independent missionaries in service of the different churches and Missions in West Africa, as well as groups such as the Groupes Bibliques Universitaires (UCCF/IVF).

This wider ministry in collaboration with those wishing to use their services for conferences, conventions, Bible studies, etc., is carried on under the name of Coopération et Documentation Missionnaires.

CDM in turn spawned the well-equipped Centre de Documentation Missionnaire. In all we now employ 18 Africans (including 12 deaf Christians we have trained in DTP, book-binding, etc.).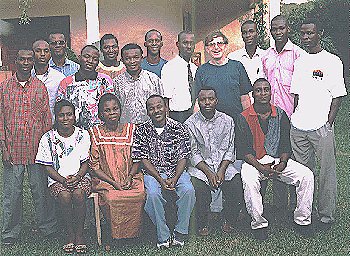 THE CDM TEAM IN ABIDJAN Left to right from rear
*Bruno, *Moké, Antoine, *Rassaki, Jean-Baptiste, *Jean-Marie, *Youssouf,
Bakary, Victor, *Germain, *Joël, *Bony.
Front: *Clarisse, Sara, *Jacques, *Ismaïla, *Didi.
Absent: *Kié and *Yêdê.
(* indicates Deaf)
As others here moved out of printing and Desk-Top Publishing, we have taken up the challenge. We are now where it's at in evangelical printing and publishing in French-speaking Africa, with some 1500 contracts completed and about 90 of our own or co-edited titles (with Navigators, PBA, SIM and others).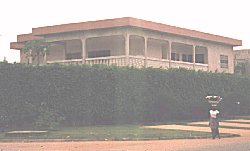 To better use our beautiful large new balconied building in Abidjan II Plateaux - Aghien, Stephanie's pre-school, with a child-sensitive Christian emphasis, is now located here together with our office and workshop. In addition, we have the pleasure of offering Mission guest house accommodation and service unique in Africa.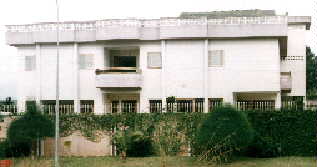 On August 15, 1997, we opened a second CDM Guest House (see photo at right) for pastors, missionaries and others needing short-term accommodation in Abidjan. It has 15 rooms and 2 apartments (about 50 bed places in the case of groups). It is located close to our Guest House No. 1 which has five spacious rooms as well as the workshop and pre-school.
For our detailed information page with accommodation charges, etc., CLICK HERE, or for details how to find us, CLICK HERE. Otherwise we can send you by e-mail an attached file with full details. We hope that one day you will be able to enjoy a stay here in Abidjan with us.
Victor and Stephanie Bissett
---
CDM Texts On-Line
If you wish to save these HTML files to disk,
wait for the whole of the document to load,
then choose SAVE AS... under the FILE option at the
top left of the Internet Explorer or Netscape screen.

We also give the option of saving ZIP files of the TXT versions.
---
Links
---
For further details contact Victor Bissett
CDM@WHO.net
Phone: 225-427245 (Office) or 225-060171 (Bissett personal and Guest House Bookings)
CDM, 08 B.P. 424, Abidjan 08, Ivory Coast
Sign our Guestbook

View our Guestbook
visitors
LE FastCounter


Latest update: 5/07/1998